TLDR; Umbraco UKFest was great! You should totally go next year!
I'm sitting here in Gatwick Airport with 3 hours to burn so I thought I'd write up a recap of the past few days. On Thursday morning my alarm went off at 3:30am and I was out the door and on my way to Edinburgh airport at 4:30am.
I was heading to London to attend Umbraco UK Festival. A community organised event which comprises of a hackathon on the Thursday and the main event on Friday.
This was the first time I was attending an event as part of the Gibe Digital team and I was meeting more of the team in London. I had met most of the team when I went to the company trip to Porto last month but there are still a few that I haven't met in real life.
My flight got me in to Gatwick for about 8am and I was in London and enjoying a coffee with Warren Buckley in Starbucks by about 9:45am. Pretty good I thought, especially since there was a storm kicking off slightly further south in the country.
The hackathon started at 10am in the offices of Hugo and Cat in Shoreditch and we wandered round ready for a day of hacking. I was chatting with other developers, enjoying networking with them and also reviewing some code on the newly released Umbraco package by Shannon Deminick called Articulate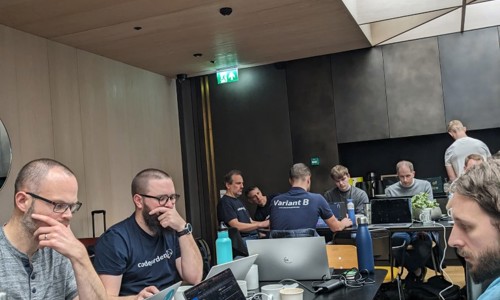 After a full day at Hugo and Cat's office, I headed to the hotel that the Gibe team were staying in and freshened up before heading back in to Shoreditch for the pre-party.
It's become bit of a tradition that before any major conference, you have a pre conference party. This tends to be a chance to catch up with friends, make new friends and generally add to the whole experience of attending a conference.
Before the pre-party kicked off, the London Umbraco Meetup group organised a pre pre-party get together so that we could all grab some food. We headed to Boxbar and kicked things off.
After a few drinks we then headed as a group to the main pre-party, which was at The Glitch Bar. We all headed up stairs and was greeted by a bar full of retro arcade games and a race track where 10 individuals could take control of remote control cars and race around a track for 15 laps at a time.
The racing started off friendly and non-competitive but then people started to realise there was a "fasted lap" leader board and so people started racing and trying to knock the leader off the top. 
I have to admit, I did try and there were defiantly some cars that were faster than others and I seemed to always find one of the slower of the cars. Well, that's my excuse and I'm sticking to it. 
The evening was packed with lots of networking and laughter and it was great catchup with with so many people. 
It did turn in to a very late night though, not getting back to our hotel until 1:30am. I'm pretty pleased that I managed to stick the pace, considering I had been up since 3am the previous day.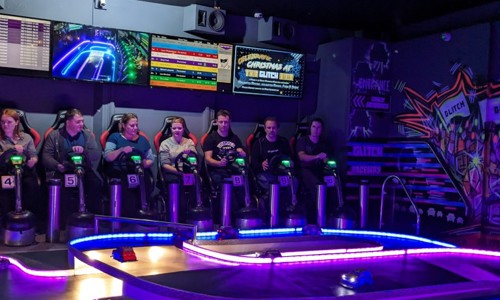 I always take my running stuff with me and I always have the intention of running, however, with such a late evening and the fact that I needed get to the venue by 8:45am I decided I would just take an extra 30mins in bed.
I met the Gibe team at 7:45 and we walked to the venue (45mins away) and picked up a coffee and pastries along the way.
Umbraco UK Festival
We arrived to a fairly quiet venue but took our jackets off and got ready for a busy day of talks. 
We quickly found the coffee bar, which was free and the quality of the coffee was fantastic - I do like a good freshly ground coffee!
By 9am the venue was buzzing with people all ready for the day ahead and just after 9:15, Callum Whyte, the main organiser of the event took to the stage to welcome us all and kick things off.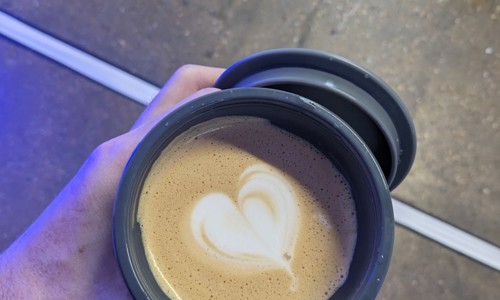 During the day I went to the following talks: 
Mounting your UI in the New Backoffice - Niels Lyngsø
Astro-nomically performant websites using the Content Delivery API - Louie Richardson
Custom property converters for the v12 Content Delivery API - Laura Weatherhead
UmbraCoffee - 300th episode!
What we do in the Shadows: Bringing legacy apps back to life with web components - Jason Elkin & Joe Glombek
Then we had lunch which was really good! So much so that I had portions (once I knew everyone else had had theres....honest!)
Umbraco + .NET Maui - content delivery API Dos and Don'ts
Escaping the developer rut - Rachel Breeze
My journey as a woman in tech - Abhipsa Nakarja
All the talks were really good and I took away different things from each, which is all you can really ask for during these events. 
After all the talks had been done, there was an after party organised at a bar down the road which again was a lot of fun but also a great chance to chat and catch up with people. 
If you go to an event like this and you have the time, I highly recommend getting along to the post and pre parties. The pre party allows you to get to know some people before the main day. The post party lets you chat about the talks and learn even more but in a more sociable environment. 
It was great to attend Umbraco UK Fest and although numbers were lower than pre-covid days, it's great to see there is an appetite for events like this and it would be great to see it grow to what it used to be.
If you can get along UK Fest next year, I highly recommend it. I'm sure everyone would get something from it.
If you can't wait until next year, then why not book your tickets to Umbraco Spark which is happening in March.
Thanks to all the speakers, organisers and everyone behind the scenes for putting on a great event!